Information for travelling from Hungary to other countries.
If you do not find an answer to your specific question please contact us.
International destinations from Hungary
Hungary is connected with 10 countries – among them almost all the neighbourhood ones and its capitals, and even to Czech Republic, Germany, Poland and Switzerland.
Where to buy international tickets
A wide range of international tickets (for departure from and arrival to Hungary) are available online (jegy.mav.hu). Online tickets can be used for inspection directly on smart devices or as printable PDF. Via MÁV application international train tickets are valid only for direct trains departure from and arrival to Hungary. Check our online sales page, or download MÁV application.
International ticket offers
Start Europa
Non-refundable tickets in limited amounts at the best prices. Available for almost all long-distance day trains from and to Hungary. In ticket offices for journeys between every stations in Hungary and to destination countries (or back there), online and via MÁV application only for the direct trains.
Click here to learn more about this offer.
Night train offers
For night trains to Stuttgart, Zürich and Berlin tickets with train boundary can be purchased. Several discounts for children, groups, passholders, discount card holders, etc. are available.
Special offers
Tatra excursion ticket, valid for 4 days from Budapest to Poprad-Tatry/Strba and return, including unlimited travel on the Tatra mountain's tram and railway lines: 49 €
START Regio offers
International tickets for the border regions with higher discounts and some restrictions.
Europa Flex tickets
Full flexible offers to almost all European countries. Special discounts to Central and Eastern European countries.
Interrail and Eurail passes
Valid for unlimited travel in the selected countries – or through whole Europe – within the period of validity with further discounts for buses, ships, hotels, sightseeing and railway museums. Visit Interrail and Eurail website for further information on the prices and terms of use of these passes.
Discounts for every journey
Children
Children up to 6 years can travel for free, if they are not occupying an own seat (f.i. pram). Between 6 and 14 years 50% discount is offered for standard and special tickets. (Age limits may vary for other countries.) For START Europa and night train tickets special discounts available. No further discounts on SparNight and SparDay!
Groups
More than 6 passengers regardless to their age are entitled for a group discount of 10-60% depending on regulations of countries. On night trains group discount is available only for more than six adults, and without further child discount.
RAILPLUS
RAILPLUS grants 15% discount for undiscounted standard tickets, even more for night train tickets. It is available as a pass, or already included in customer cards like DB's BahnCard or ÖBB's VorteilsCard.
Carriages and comfort classes
Seats
2nd class on every day and night trains. 1st class with more comfortable seats and on some routes extra services are available on day trains – on the board of Railjets to Austria, Germany and Switzerland even on higher level with Business Class.
Night services
Couchettes are ideal for low-cost travels and bigger families. Sleeping cars provide more comfort and intimacy for business travelers, couples and small families – however, in some carriages adjacent compartments can be combined as suite.
Features of the two classes: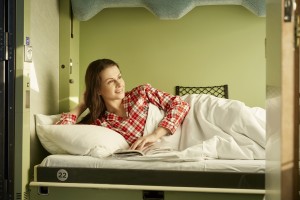 Couchettes

Sleeping cars

Passengers per compartment

up to 4 or 6

1, 2 or 3

Gender sorting

mixed, ladies's compartment available on some trains

sorted by gender, people travelling together can buy an own compartment

Sanitary facilities

common toilets and washrooms

en-suite washbasin, common toilets, some carriages with common shower room
several trains have DeLuxe compartments with own bathroom

Bed linen

Pillow, blanket, sheets – passengers make their own bed

Pillow, duvet, sheet – beds are made by attendant

Service included

Mineral water, small breakfast

(not on every routes)

Sanitary kit, welcome snacks and drinks, complete breakfast

(not on every routes)
On-board catering
Dining or buffet cars are available on any day trains in Central and Western Europe with cold and hot meals, snacks and drinks. On the board of some trains for passengers on 1st class meals are served at their seats. On night trains snacks and drinks are available in couchettes and sleeping cars.
Bicycle transport
Full-size bicycles may be carried only on the board of border-crossing long distance trains, where designated cars with racks are available. Long-distance bicycle tickets for 10 € (to some countries only 5 €) and reservation of racks are obligatory. Special fees for regional traffic also available.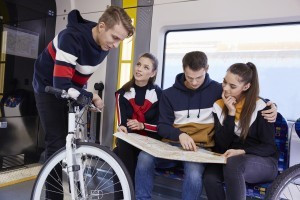 Transport of special bikes f.i. recumbent, tandem, electric etc. that are over the standard bicycle dimensions may be restricted, excluded or charged with extra fees in several countries.
Folding, disassembled bicycles that meet specific size and weight limits may be brought onboard on any trains for free of charge if packed, and can be placed in the luggage rack or under the seat.
Disabled passengers
Travel of Attendants of blinds and passengers in wheelchairs (certified by own official passes of certain countries) is free of charge (except reservations) in many countries. Guide dogs and service animals of blind passengers can be carried for free of charge without restrictions for pets.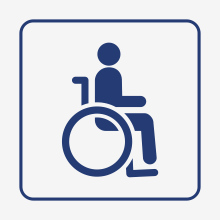 Carriages with dedicated wheelchair places, elevators and accessible toilets are available in every day trains towards Wien, Bratislava and all the countries beyond.
Carrying of pets
Smaller dogs and other non-dangerous pets (f.i. cats, birds) can be carried in lockable pet carriers for free of charge. Pet carriers must be provided by owners. Dogs without carriers must be leashed and muzzled with with half-price Europa Flex tickets. Pets – particularly dogs – are prohibited from dining cars, and in some countries also from 1st class and –at MÁV-START also – from night carriages. Amount of pets per person may be limited too.
Luggage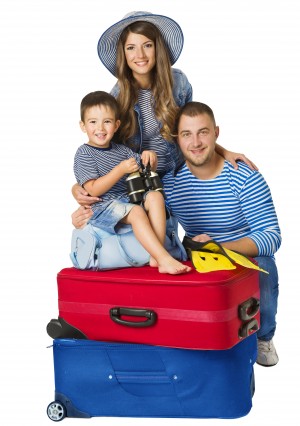 There are generally no size or weight restrictions, except some countries. Passengers can carry three items for free among them suitcases, packages, prams, sport and music instruments. Luggage have to meet the legal and custom orders of specific countries, and also the special rules for dangerous goods.
All the items may be brought onboard on lagguage racks and under seats. Lagguages must not disturb other passangers and damage amenities, or block corridors, emergency exits, restrooms etc.
General rules and conditions of carriage
The following rules apply to international travel.