Valid from 4th March 2022.
MÁV-START does everything for the journey of people coming from the Ukraine. Some information to the entrance and the domestic and transit journeys in Hungary.
ATTENTION! Humanitarian assistance at Budapest's railway stations have ceased. A humanitarian hub for those requiring care and assistance is available in the BOK Stadium (1146 Budapest, Dózsa György út 1) Would you need assistance, please alight the train arriving from Záhony (only extra trains) or arriving from Romania at Kőbánya felső station, from where the authorities will guide you and provide a transfer. At the new humanitarian hub, among other services, a railway ticket office is at your disposal.
Travel from the Ukraine to Hungary
Every trains to Hungary are operated as scheduled (due to controls and high demands significant delays are possible):
Kyiv – Lviv – Mukachevo – Záhony – Budapest through sleeping cars (further to Wien insecure)
Mukachevo – Chop – Záhony – Nyíregyháza – Debrecen – Budapest intercity trains
Chop – Záhony regional trains
Tickets are available at the cash decks.
Travel of Ukrainian citizens in Hungary
From Záhony to Budapest several InterCity trains are available via Nyíregyháza, Debrecen and Szolnok, or go to Nyíregyháza by passenger trains and change there. Currently also extraordinary trains are operated.
Scheduled trains:
| | | | | | | |
| --- | --- | --- | --- | --- | --- | --- |
| Záhony | 4:08 | 5:35 | 8:40 | 14:40 | 16:28* | 18:40 |
| Budapest-Nyugati | | 9:37 | 12:37 | 18:37 | 20:37 | 22:37 |
| Kőbánya-Felső | 8:15 | | | | | |
*Sundays only
Extraordinary train operates from Záhony at 3:45 to Kőbánya-Felső at 8:01.
Detailed timetables see at jegy.mav.hu and in the MÁV app.
Terms of use of "Solidarity tickets"
Free solidarity tickets are available for:
Ukrainian citizen arriving from the Ukraine (with Ukrainian ID cards and passports),
a third-country national legally residing in the Ukraine (with Certificate),
a person applying for recognition as a refugee or for temporary protection, or already recognized as a refugee/protected coming from the of Ukraine,
any person seeking or already recognized as a refugee or a protected person (regardless of the country of arrival),
and children traveling with them without any documents.
People with solidarity tickets can travel free inside of Hungary by the trains of MÁV-START és a GYSEV. Tickets must be bought before the journey in cash decks – not available in vending machines or online – or if they are not available also on trains from the conductors.
"Solidarity tickets" are valid on the route and time period as indicated on them.
In case of further journeys towards Austria and Slovakia "solidarity tickets" will be issued to the border point, in those countries you can travel for free by showing your ID documents (in Austria until 7th March).
Every passenger must hold "solidarity tickets" regardless to their ages.
"Solidarity ticket" is valid on 2nd class only. In designated carriages of InterCity trains from Záhony you're also freed from supplements and reservations, in other InterCity trains you must buy them – also available on jegy.mav.hu-n and in the MÁV app.)
Ticket and your ID documents must be shown to conductors.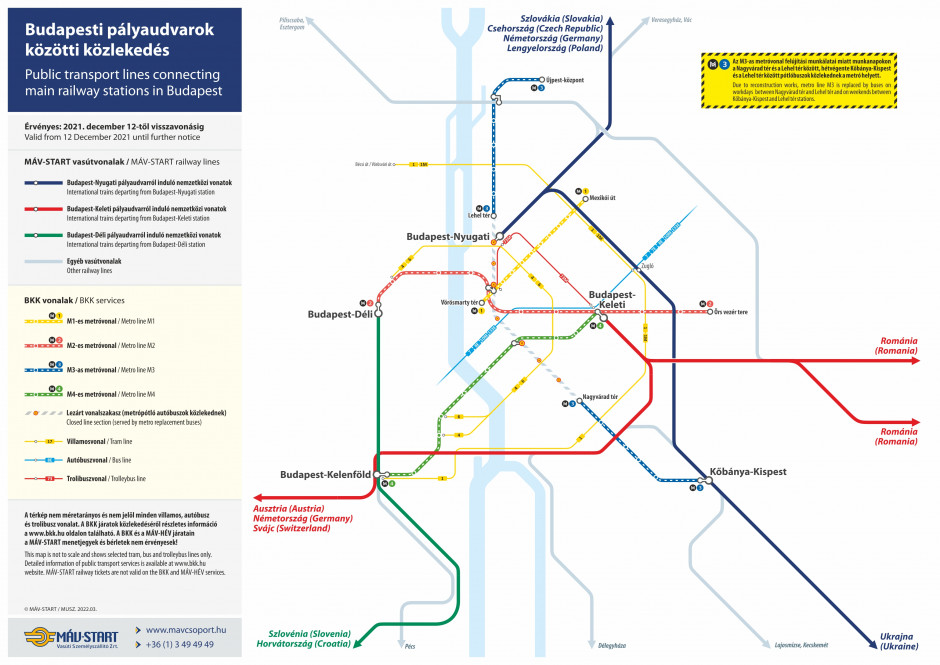 In all Hungarian trains and stations smoking is prohibited!
For transit passengers
"Solidarity tickets" are available to the Hungarian border.

Free rides on 2nd class in the countries below:
| | Ukrainian citizen | Residents |
| --- | --- | --- |
| Hungary | YES | YES |
| Austria | YES | YES |
| Germany | YES | NO |
| Switzerland | YES | NO |
| Slovakia | YES | NO |
| Czech Republic | YES | NO |
| Poland | YES | NO |
| Romania | YES | YES |
| Slovenia | YES | NO |
| Croatia | YES | NO |
| Serbia | NO | NO |
in Croatia and Slovenia holders of Ukrainian passports and ID cards
in Romania every refugees from the Ukraine, but in international traffic only Ukrainian citizens and residents
in Germany and beyond Ukrainian citizens with "helpukraine" tickets
If you travel to countries or toward other directions, you must have an international ticket. International tickets are available on every major railway stations of Budapest. Trains to Wien and München depart from Budapest-Keleti, to Bratislava, Praha, Berlin and Poland from Budapest-Nyugati station.
Entering Austria the Austrian train staff has the right to ask passengers without seat reservation for leaving the overcrowded train. For a comfortable journey we recommend you to buy reservations for the trains running there.
CLICK HERE TO GO TO TICKETS AND TIMETABLES
or
Download the MÁV app for Android
Download the MÁV app for

iOS
Please note, that "Solidarity tickets" are not available online.
You can get more information also on the free line MÁVDIREKT at +36 1 3 49 49 49
---