Unlimited train ride across Europe - that's what Interrail offers. No matter, if you want to discover one single country or the entire continent, and whether the reason of your journey is a destination or the journey experience itself, Interrail passes give the best solution for every people.
Interrail is more than a railway pass - it gives you also following benefits:
- free or discounted rides on selected bus lines
- free or discounted rides on selected ship lines
- discounts for bookings in selected hotels
- free or reduced entry to the state railway museums
- discounts to museums, sightseeings and other attractions.

About the validities, the terms of use and benefits for each country you can find more in the guidebook on the bottom of this site, and you can find out more about the discounts in the Interrail Rail Planner App.
The Rail Planner is a free and convenient app that provides offline access to the European train timetables. With the app, you can use the 'Trip Planner' feature to plan your trip in advance, at the train station or even on the train!
Interrail is available as "Global" pass for entire Europe, and as "one-country" pass for single states.
"Senior" passes are available for people over the age of 60, while Youth passes can be bought up to the age of 28.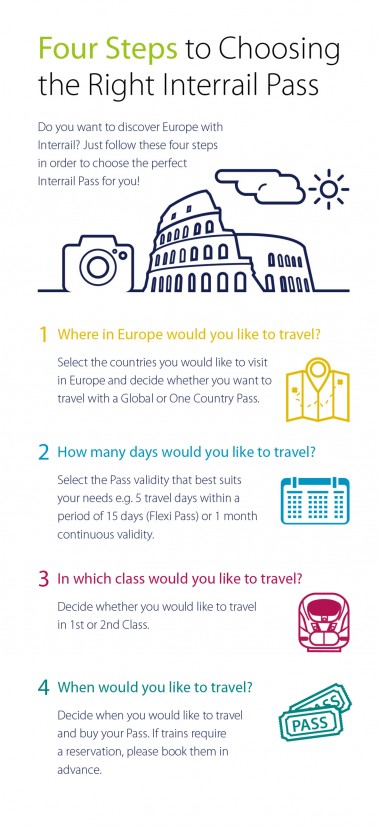 One or two child under 12 years can travel free, if accompagnied by an Adult pass holder. Maximum 4 children are allowed to travel for free with both parents, further children has to buy Youth passes.
Interrail passes are personal, they can't be handed over or shared. At buying you have to show your ID or passport, which has to be at you during the entire journey, and also shown to conductors, if requested.
The Interrail Pass is available for citizens from one of the countries of the European Union, or persons officially residing in one of these countries. Non-European residents can buy a Eurail Pass which is nearly the same like Interrail.
The pre-sales period is 11 months, so you can even start traveling with Interrail 11 months later than the date of purchase!
Continous passes allow you to travel for free during its entire validity, while flexible passes only at one of the days chosen (including the trip from/to the starting country. However, discounts and other benefits can also be used on other days than selected for journey.
If you take on a day only a night train, which departs after 7 pm - and arrives after 4 am - you have to select only the arrival day of the train, which is available for further journeys or excursions.
If you use couchettes or sleepers, you have to buy a supplement. Available categories depending of the passes' class - on some trains single or ensuite bathroom sleeper compartments and 4-berth-couchettes are only available with 1st class tickets. In some countries reservation or supplement is also obligatory on coaches and day trains, please check it out in the concerning countries or in the included tarif informations. As places can be quickly sold out during peak seasons, please buy them in time.
Interrail Global passes
If you want to as many sights of Europe as possible, or want to travel to a far country, the best solution may be the Interrail Global pass. This pass is valid in 30 European countries from Portugal to Poland, from Norway to Turkey. You can travel free on the state railways' and on selected private railways' trains on the selected class during its validity or on the selected days, while other private railways can offer a discount up to 50%.
Interrail Global passes are available with following validity and prices:
1st Class
2nd Class
Adult
Child
Youth
Senior
Adult
Child
Youth
Senior
5 days within 15 days (Flexi)
€ 302
€ 0
€ 241
€ 271
€ 227
€ 0
€ 175
€ 204
7 days in 1 month (Flexi)
€ 359
€ 0
€ 286
€ 322
€ 270
€ 0
€ 215
€ 244
10 days within 1 month (Flexi )
€ 429
€ 0
€ 343
€ 386
€ 321
€ 0
€ 256
€ 290
15 days in 1 month (Flexi)
€ 528
€ 0
€ 422
€ 475
€ 398
€ 0
€ 316
€ 358
15 days continuous
€ 474
€ 0
€ 379
€ 428
€ 355
€ 0
€ 296
€ 320
22 days continuous
€ 554
€ 0
€ 444
€ 500
€ 416
€ 0
€ 327
€ 375
1 month continuous
€ 717
€ 0
€ 575
€ 647
€ 537
€ 0
€ 419
€ 485



The Interrail Global Pass provides free travel also within the country of residence of the traveller up to two trips (provided it is an Interrail member country): an outbound journey to travel from any location in the country of residence to the border or an airport or port, and an inbound journey to travel from the border or an airport or port back. For further journeys an international ticket has to be bought with a discount of 50%.
Interrail one-country passes
If you want to discover one country's sights from a bigger city or as round trips, the Interrail one-country pass is the best solution. These passes are available for every countries, involved in the Interrail except Bosna-Herzegovina and Montenegro. Prices are depending of the countries, according to their economical and railway facilities.
Interrail one-country passes are available for 3, 4, 6 and 8 days inside a month. Days can be chosen by you, but the journey there and return are also one of the days. Night travel rule applies also here.
One-country passes provide every reduction in the chosen country like global passes. However if you travel to your destination by train, you have to buy a supplementary ticket to the country border. For these routes you can use every reduction available or buy other one-country passes.
Prices for one-country passes
1st Class
2nd Class
Price level 1
Adult
Child
Youth
Senior
Adult
Child
Youth
Senior
Applicable for the countries:
3 days within 1 month (Flexi)
€ 272,00
€ 0,00
€ 218,00
€ 245,00
€ 205,00
€ 0,00
€ 159,00
€ 185,00
France, Germany, Great Britain,
4 days in 1 month (Flexi)
€ 300,00
€ 0,00
€ 240,00
€ 270,00
€ 225,00
€ 0,00
€ 169,00
€ 203,00
6 days in 1 month (Flexi)
€ 382,00
€ 0,00
€ 306,00
€ 344,00
€ 286,00
€ 0,00
€ 214,00
€ 258,00
8 days in 1 month (Flexi)
€ 422,00
€ 0,00
€ 338,00
€ 380,00
€ 316,00
€ 0,00
€ 239,00
€ 285,00
1st Class
2nd Class
Price level 2
Adult
Child
Youth
Senior
Adult
Child
Youth
Senior
Applicable for the countries:
3 days within 1 month (Flexi)
€ 234,00
€ 0,00
€ 187,00
€ 210,00
€ 175,00
€ 0,00
€ 135,00
€ 158,00
Austria, Italy Plus1, Norway2, Spain, Sweden
4 days in 1 month (Flexi)
€ 264,00
€ 0,00
€ 212,00
€ 238,00
€ 199,00
€ 0,00
€ 159,00
€ 179,00
6 days in 1 month (Flexi)
€ 344,00
€ 0,00
€ 276,00
€ 310,00
€ 259,00
€ 0,00
€ 193,00
€ 233,00
8 days in 1 month (Flexi)
€ 399,00
€ 0,00
€ 319,00
€ 360,00
€ 300,00
€ 0,00
€ 226,00
€ 270,00
1st Class
2nd Class
Price level 3
Adult
Child
Youth
Senior
Adult
Child
Youth
Senior
Applicable for the countries:
3 days within 1 month (Flexi)
€ 159,00
€ 0,00
€ 127,00
€ 143,00
€ 119,00
€ 0,00
€ 90,00
€ 107,00
Benelux3, Denmark, Finland, Greece Plus1, Ireland (NIR & IE), Italy, Switzerland
4 days in 1 month (Flexi)
€ 200,00
€ 0,00
€ 161,00
€ 180,00
€ 150,00
€ 0,00
€ 111,00
€ 135,00
6 days in 1 month (Flexi)
€ 267,00
€ 0,00
€ 214,00
€ 240,00
€ 201,00
€ 0,00
€ 145,00
€ 181,00
8 days in 1 month (Flexi)
€ 323,00
€ 0,00
€ 258,00
€ 291,00
€ 241,00
€ 0,00
€ 181,00
€ 217,00
1st Class
2nd Class
Price level 4
Adult
Child
Youth
Senior
Adult
Child
Youth
Senior
Applicable for the countries:
3 days within 1 month (Flexi)
€ 104,00
€ 0,00
€ 83,00
€ 94,00
€ 79,00
€ 0,00
€ 59,00
€ 71,00
Bulgaria, Croatia, Czech Republic, Greece, Hungary, Poland, Portugal, Romania, Slovakia, Slovenia, Turkey
4 days in 1 month (Flexi)
€ 127,00
€ 0,00
€ 102,00
€ 114,00
€ 96,00
€ 0,00
€ 71,00
€ 87,00
6 days in 1 month (Flexi)
€ 169,00
€ 0,00
€ 136,00
€ 152,00
€ 126,00
€ 0,00
€ 96,00
€ 114,00
8 days in 1 month (Flexi)
€ 198,00
€ 0,00
€ 159,00
€ 179,00
€ 149,00
€ 0,00
€ 110,00
€ 134,00
1st Class
2nd Class
Price level 5
Adult
Child
Youth
Senior
Adult
Child
Youth
Senior
Applicable for the countries:
3 days within 1 month (Flexi)
€ 76,00
€ 0,00
€ 61,00
€ 69,00
€ 57,00
€ 0,00
€ 43,00
€ 52,00
FYR Macedonia, Serbia
4 days in 1 month (Flexi)
€ 104,00
€ 0,00
€ 83,00
€ 94,00
€ 79,00
€ 0,00
€ 59,00
€ 71,00
6 days in 1 month (Flexi)
€ 143,00
€ 0,00
€ 114,00
€ 129,00
€ 107,00
€ 0,00
€ 83,00
€ 97,00
8 days in 1 month (Flexi)
€ 171,00
€ 0,00
€ 137,00
€ 154,00
€ 127,00
€ 0,00
€ 94,00
€ 115,00






Pass for Greek island cruises
1st Class
2nd Class
Interrail Greek Islands Pass
Adult
Child
Youth
Senior
Adult
Child
Youth
Senior
Applicable for the countries:
6 trips in 1 month (Flexi)
€ 206,00
€ 0,00
€ 180,00
€ 185,00
€ 174,00
€ 0,00
€ 153,00
€ 157,00
Participating Attica Group Italy-Greece & Greek Island Crossings






1 Includes Attica ferry between Greece and Italy
2 Norway (NSB) 1st class is not for sale
3 Benelux: Belgium, the Netherlands and Luxembourg
Further information: www.interrail.eu