Transporting bicycles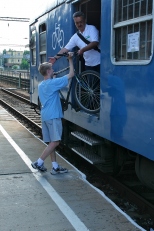 If you take a train, you choose one of the most environment friendly ways of transport. Perhaps only biking can beat it. And the two can be linked…
And what is more, if you take a train, you can plan your trip without constraint, without having to return to your destination where you drove.
You are awaited by several towns and regions even after you have got to know your immediate "range" and you want to boldly ride your bike where no one has ridden before. For this you do not have to bike through borders, our international trains offer not only to you, but to your bike too a comfortable and safe way to travel. Some of our trains feature all year round or only in the summer a car to transport bikes, in which – close to your bike – you can travel comfortably, and maybe spend the night in a fully made-up bed.
In the 2008/2009 time-table year the following routes will feature bike transporting cars:
The whole year round:
Budapest-Párkány-Pozsony-Brno-Prága-Drezda-Berlin(-Hamburg)
Budapest-Székesfehérvár-Veszprém-Zalaegerszeg-Muraszombat-Ptuj-Celje-Ljubljana
Győr-Mosonmagyaróvár-Bécs (EURegio trains)
During the summer:
Budapest-Tatabánya-Győr-Pozsony-Olomouc-Prága (night train)
Szombathely-Nagykanizsa-Zágráb-Split (night train)
Szombathely-Pozsony-Brno-Prága
Clicking on the routes, you can download the time-table of the trains, and the composition of the trains where you can see the location of the bike transporting car.
To transport the bike you need a valid international ticket, international bike ticket and sometimes seat reservation.
The price of the international bike ticket for a single trip is:
To Slovakia and Slovenia: 5 €
To the Czech Republic, Austria, Germany and Croatia: 10 €.


Between Hungary and Austria on the EURegio trains you can buy a return bike ticket with the EURegio-Spezial ticket for 4 €.
From the destinations the railway companies of the given countries provide an opportunity to transport your bike with domestic and further international trains. Please, find information on the valid prices and access opportunities on the web-site of the given railway companies or on site.