The dining cars offer restaurant quality services on most of the Intercity trains in Hungary and all over Europe. This varied cuisine lures our passengers with its menu of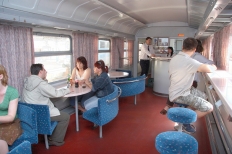 sensitively chosen homestyle cooking, a range of national dishes, which can readily include a variety of freshly roasted meats.
The rolling restaurant is a superbly descriptive term: fresh dishes made on board combined with the perfect service while we are on our way towards our destination. The passengers can comfortably eat –depending on the time of the day – their breakfast, lunch or dinner.
Both on domestic and international trains the mobile bar or push trolley service is an additional feature to provide services. This supplementary service is mainly targeted at those passengers who do not want to leave their seat for long, or only wish to have a drink or a snack.