It is a pleasant experience to travel on a train. Everybody is greatly affected by a journey in the sleeping car or couchette. During the journey all our passengers save time if they make use of the services offered by a sleeping car or couchette on both legs of the journey. It is not necessary to get to the train several hours before departure. There is a lot of space available for the passengers, they can change their position: they can stand, sit, walk, sleep. Crowds and queues can be completely avoided as the tickets are for seats and berths, and can be purchased in advance in the ticket office of MÁV-START Zrt., and at the railway stations.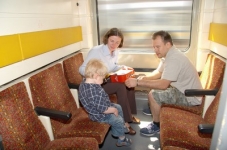 The couchette is a cheap, but nevertheless comfortable way of travelling in the tourist category. In a compartment there are 4 or 6 berths. Compartments with 6 berths can be used by 4 persons for a couple of euros extra charge. During the day 3 passengers sit in the compartment facing another 3 passengers. In the evening the seats are converted to berths. The allocation of places in the couchettes can be seen here.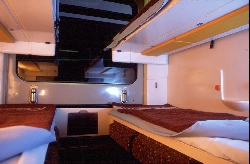 In the evening the attendant converts the seats to berths, and puts pillows, blankets, and sheets on all the berths. In the couchette the passengers shall make the berths, but they can ask for the help of the attendant as well. Men and women travel together in the couchette. For example, if a woman buys one couchette ticket, all her fellow passengers may be men. On some of our EuroNight trains one compartment in every car is reserved for only women, but in the rest of the compartments men and women travel together. The door to the compartments is fitted with traditional and safety locks, which cannot be opened from the outside.
Here you can see the numbering system of the couchettes. The supplementary ticket of the couchette displays the number of places reserved, where the passenger will sleep. The first number also shows the number of the compartment, the second indicates the berth itself. Berth no. 1 and 2 are the lower berths, berths no. 3 and 4 are in the middle, whereas berths no. 5 and 6 are the upper ones. For example, berths no. 32 and 34 are lower berths in compartment 3 in the middle, on the right hand side of the compartment.

Trains with couchettes go to Germany, Italy, Austria, Poland and Romania all your round. In the summer we also operate trains to the beaches of Croatia and Bulgaria.
Every car has an attendant who is responsible for overseeing order and security, and is available at all times to serve passengers in every possible way. During the journey there is a buffet available, orders are to be placed with the attendant.